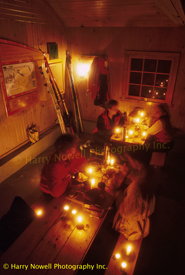 Yesterday, I posted my monthly Exposed! article, "Light up the night!" The photo, at right, was shot for an assignment to depict dinner in a ski cabin. It was lit with candles, lanterns and one large flashlight only.In that vein I found some pretty fun examples of light painting on the web – check the photos, watch the video. If you are curious to learn more consider my Night Light course in March.  "Style"Your style is determined by what you like. Easy! Consciously critiquing whatever you see – magazine ads, tv shows, billboards, advertising, newspaper photos helps you grow! What do you like? What don't you like? Why?I often play a game called "Photo Detective Work".I try and decipher how a photo is achieved without actually knowing anything.
Did he use flash?
Did she use a tripod?
What aperture and shutter speed wer used?
What lens was used?
Film or digital?
All of these are possible to hypothesize quite accurately. Try to figure out prominent dance photographer, Lois Greenfield's, style! 
Her technique is very simple but her style is quite extraordinary.