I wear a different button everyday to school.
Last week one button on my shirt said "You are enough."
During circle time an eight-year-old boy gently asked "What does that mean?"

I paused for a breath and the following fell out of my mouth:

So many people are told they are not tall enough, fast enough, big enough or smart enough.
Lots of people believe they are not good enough at math or art or reading. 
Some people wish they were strong enough, kind enough, tough enough…
But you are enough. 
You're enough at SOMEthing. 
You just need to find out what your thing is.

There was a pronounced pause and the boy quietly said, "That is wise."
I'm not sure where those words came from, exactly, but they floated around in my head for the rest of the day.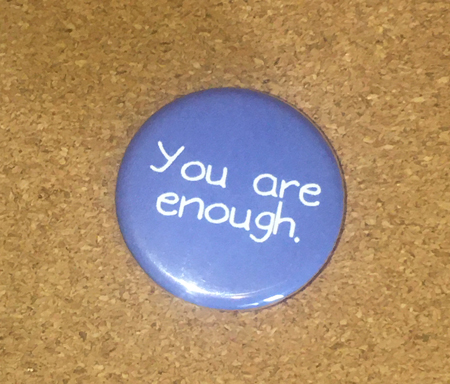 We spend so much energy in school and life focusing on narrow outcomes:
• excellence in math and literacy
• being stronger and faster
• attaining a university education
These are excellent goals. But many other traits or characteristics are overlooked or under-valued.
Ken Robinson describes a story of a student whose passion and skills to be a firefighter were spurned by a teacher as not good enough until, years later, his student saved his life in a car wreck.
A teacher at my 1980s high school was well known for rejecting a student's desire and talents in music. Later, the student, Bryan Adams rocketed to fame and fortune.
As a boy, Ingvar had a tough time in school. His father told him he wouldn't go anywhere in life. He was dyslexic but had an aptitude to think differently. Despite his challenges, he was good enough to build IKEA from a tiny business to an enormous company.
Stephen Wiltshire, as a child, would not speak. His language abilities were minimal. He didn't socialize well. But he had an amazing ability to memorize enormous details – enough to reproduce cityscapes on paper from memory. He is now a world-renowned, architectural artist.
Many real superheroes start out with enormous challenges.
With support, tenacity and/or good fortune, they discover their (sometimes hidden) talents were more than good enough.
As a teacher, I support students' challenges.
More importantly though, I seek to recognize students' true talents and help them shine. They are enough. We just need to discover their true strengths to let them shine!