My pro hockey workshop students are meeting tomorrow for their critique session. Feed back of their session at the Ottawa 67s game has been good so far. In the next few days I will highlight some photos and links to some student photos.
First up a snapshot with my new point & shoot – at these workshops my job is to support the students, not take photos – my P&S comes in handy for the quick snaps: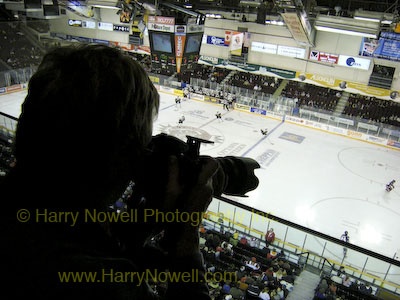 Even on auto mode with a good understanding of fundamentals I can create quick silhouettes of a student shooting from the box or media centre in the rafters. I shot this at 28mm – wider than most P&S cameras will allow – see previous blog entries to investigate my criteria for this camera purchase.
In other news – a busy week with other work and my house is leaking a bit with the huge amounts of snow starting to melt – I have a big job tomorrow to fix it!
H