Our new online photo program has finished it's introductory phase – this summer brave photographers challenged their skills and tested our new program designed to help people looking for photo skills, inspiration and community from anywhere they could get an internet connection.
Skills improved.
Photos developed.
Feedback made me smile.
August's challenge was a technical one dealing with motion – freezing it, blurring, panning, etc. Previous challenges have pushed photo skills with less technical challenges – self portraits and compositional elements.
Coming up in September we launch the full program with more integrated web software & new challenges. A forum for sharing ideas and photos with our online community is coming, too.
Rates for the program:
$35 monthly
$180 for 6 months – (represents $30/mth)
$300 for the year – (represents $25/mth)
What's included?Each month you will receive four emails linking to printable notes, a video tutorial, pertinent web links, resources and a critique session in the last week of the month. There will also be a chance to share with the group casually.
All from the comfort of your home (or wherever your computer is connected to the internet!)
Your pace, your speed, your location.
Register at the bottom of the Online Program page.
I like going fast.
I like making other people look like they're going fast, too.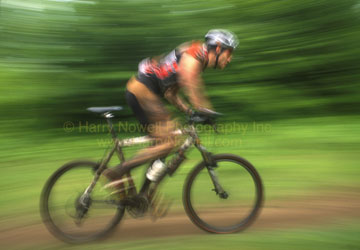 The picture above was shot on trails in Gatineau Park using techniques of motion I will be discussing in next week's Exposed! newsletter. Sign up to receive the newsletter at the top, right of this page.
I will be covering these motion techniques in my upcoming bike race photo workshop.
Yeah, it's fun!
One of my agencies has just uploaded some new imagery. AGE Fotostock in Spain licenses my work around the world. They do not sell photos – they sell "rights" to use photos for specific purposes. This is known as "licensing" the imagery. This industry is called "stock photography."
See one of the images recently posted:
My Mum had had foot surgery and kindly agreed to model from her wheelchair. I took a dual role as photographer and model – that's me in the red t-shirt multi tasking. The camera was attached to the wheelchair which gave the opportunity for some funky motion!
Stock photography is, in some ways, my favourite type of work and the initial reason I got into photography as a career! My work is now quite diverse but stock comprises a good chunk of my photo life.