Looking out my office window at Gatineau Park near Ottawa the leaves are sporting their fine fall colours. It's a magical time of year to get out of your car.  Wander creatively and soak in the magnificence the boreal forest has to offer.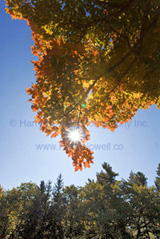 I discovered a fine article posted at digital-photography-school.com (ahem in Australia of all places!) with top tips on shooting fall colours.
It looks like a wet week in this region but the overcast skies and glossy wet leaves can pump up your colours. As photographer J David Andrews once told me "It's always perfect weather to shoot something."
Get out there and explore with your cameras. Remember to go slow and observe. Often, less photos will get you more successes!