Ok. We have a lot of snow: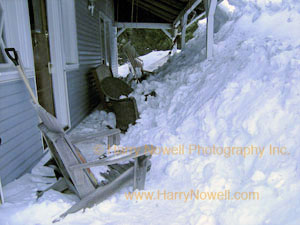 I have never seen this much snow in Chelsea! I have never had trouble getting through the door, above! I am not complaining – we'll be skiing until June! The snow has created some extra work – and not the paying kind! I shoveled my garage roof last week and I can now walk directly from the roof down to the driveway – no ladder needed!
With all this snow is there a boom of photo opportunities? Yes and no. Editorially there are news stories mostly covered by the local papers.From a stock photography perspective there are opportunities but tough ones. The abundance of snow offers ample winter pictures but there are far too many snow pictures out there already!
I just searched for "snow scene" at AGE Fotostock and found almost 7000 pictures available! To make the snow pictures salable through a worthwhile agent there needs to be something snowy and unavailable anywhere else. Supply and demand! What makes a good (ie profitable) stock snow picture? Perhaps buried cars, buried houses? Look for ways to put a positive spin into the picture – positive sells better than negative.
Positive, unique pictures that are well shot – not my snapshot of the porch above – have a chance at earning some dough. There is lots of competition – there are some exceptional snow photos out there and a lot of mediocre ones, too. Check my Creative Business Seminar for more business ideas.H