Intro to Film Photography and Darkroom Skills ::
calendar of courses | overview of courses | custom courses | testimonials
What is old is new again. Climb aboard the growing resurgence of interest in film photography and darkroom skills. Once thought to be the wounded dinosaur of photography, film is becoming the new cool kid on the block.
Dates
Tuesday, Oct 18, 2011; 6pm-9pm
Saturday, Oct 22, 2011; 9am-1pm
Tuesday, Oct 25, 2011; 6pm-9pm
Saturday Oct 29, 2011: 9am-2pm or Sunday Oct 30, 2011: 9am-2pm (if needed)

Saturday - The group meets to discuss cameras, film, loading, operating and proceed to go aon a short photo safari in central Ottawa with B&W film. We finish Saturday by learning to process film at the dark room location.

Sunday - Two smaller groups meet either morning or afternoon at the darkroom to learn to print!
Location
Workshop is held in central Ottawa and central Hull.
Cost
$350 + applicable taxes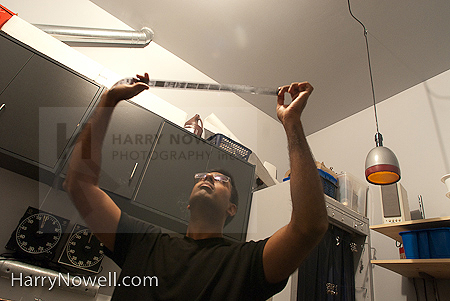 Film Photography Renaissance!
Why film?!
Film photography is having a renaissance and we get more requests to learn about this art all the time. Film has distinct advantages for some specific uses:
Film handles extreme elements better. Some film cameras have no batteries or the battery only powers a small meter. Working in cold, wet, dusty, humid areas film photography cam excel.
Film cameras cannot max out their memory buffer and become frozen. (They do run out of film!)
Film cameras are cheap and readily abundant. Black and White film and processing are cheap. No computer upgrades or expensive software needed. You can process at home.
Want to print big? Medium and large format films offer enormously crisp and vibrant 400mb files at a fraction of the cost of medium format digital backs.
Film photography is an artistic process different, more challenging and more rewarding than digital capture.
What you will learn
Join Alex and Harry to cover the following:
What film equipment is right for you and where to find it.We cover different formats and 'toy' cameras
What are your film choices?
How to load film
Techniques to ensure appropriate exposure.
An introduction to the dark room
How to process Black and White Film
How to print in the dark room
What to bring
We encourage any form of film camera in good working condition. We can rent film cameras and lenses if needed. Do not worry about your equipment - all you need is a film camera and lens(es) - "point and shoot" cameras are fine for this course.
What is provided
We will provide:
three rolls of Black and White film 35mm film
up to 10 sheets of 8x10 paper
chemistry
Registration
Class size is limited to 6 people! Contact us by email or by phone at 819-827-9460 for more information and to register. To reserve your spot we ask for a deposit of $125 and a complete registration form.

Small print and registration details.
Join Harry for the camera and Alex for the dark room sessions!
Who is Harry Nowell?
Harry Nowell:
is a working Ottawa based photographer with a studio on Preston St.
is a trained teacher of skills development.
licensed photo work all over the world.
recently judged a photo contest for Canadian Geographic
Who is Alex Leblanc?
Alex Leblanc:
is a high school media teacher
has a college degree in photography and a Bachelor degree in Visuals Arts
worked as a photography technician at the University of Ottawa arts centre
is an accomplished photographer operating a studio and darkroom
participates every year in a few photography exhibitions