Photographing Your Children with family photographer Christine Denis ::
workshops | FAQs | custom courses | testimonials
Christine Denis is a baby and child photographer creating smiles and tears (good ones) with her cameras.
Join Christine to capture timeless memories of children with your SLR or point-and-shoot camera by learning:
the technical capabilities of your DSLR or point-and-shoot camera
fundamentals to help you better capture your children
Who is Christine Denis?
Christine Denis is a baby and child photographer based in Chelsea, Quebec. She photographs sparklingly beautiful young clients from the Ottawa and Gatineau area. Her philosophy of photographing children is to capture them as they are.
New Dates
Tuesday, June 7th - 6-9pm
Saturday, June 11th - 9am-12pm

Location
Central Ottawa, Ontario for all dates.
Cost
$200 + applicable taxes
What you will learn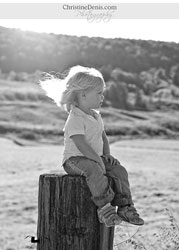 Join Christine as she takes you through the process of preparing to photograph and getting great results.
Workshop concepts include:
Storytelling principles and how they relate to photography - learning to take more than just a snapshot of your children.


What to look for in telling the story of a child's life. You'll leave the course with a new photography goal that will help you remember what your children were like after they grow up.


Technical capabilities of your DSLR (or point and shoot) to effectively tell the story of your children.


Concepts such as aperture, shutter speed, and ISO explained in plain English to give you the confidence to shoot beyond automatic settings!


Course Outline: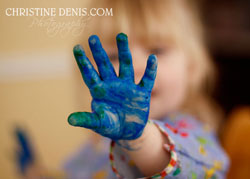 Evening Session
The evening session will cover the technical fundamentals of your camera: settings, aperture, shutter speed and ISO. Concepts will be explained in simple terms to help you creatively use your DSLR to tell the story of your children's lives.
Prompts and homework are assigned for the remainder of the week to practice capturing stories of your child or grandchild while using the technical capabilities of your camera.
Practical Session
We will have a practical hands-on session at an Ottawa park with a few children who will 'model' for the group. They will be encouraged to play on the monkey bars, get dirty in the sand and run, while we apply the technical and creative concepts of photography. Get ready to have some fun!
What to bring
A camera and lenses or your point and shoot
Notebook and pen
Questions
"Is this a digital or film course?"
It is a photography course - about creating better pictures. The emphasis is on your skills behind the camera and your ability to effectively use the camera you have. We encourage digital cameras for this course for ease of learning. Film shooters are welcome! Do not worry about your equipment - all you need is a camera and lens(es) - "point and shoot" cameras are fine for this course.
Registration
Space is limited! Contact us by email or by phone at 819-827-9460 for more information and to register. To reserve your spot we ask for a deposit of $67.80 (including taxes) payment and a complete registration form.

Small print and registration details.