Cooking with Images with Hagen Hohn ::
workshops | FAQs | custom courses | testimonials
Cooking With Images: Turn Ordinary into Sizzle!
Consider this session to be a cooking class for photography.
Join Hagen on this recipe for fun and exploration as he leads you through the process from ordinary to mouth watering. Along the way you'll discover important tools, short cuts and unknown tips to end with a deliciously inviting final photo!
Have you ever wondered how photographers add spice?
Not interested in taking a photoshop course?
Don't have the time for a workshop, but still want to learn how to do something special?
Bring a notepad: no computers or photo editing software required.
Following the format of a cooking show and, taking only 2 hours, Cooking With Images Sessions helps add sizzle!
The Flaming Jalapeno!
Learn the recipe for Flaming Jalapeno and discover tips to add zest to your own photos. This seminar touches on different tools for editing. This is not a Photoshop course but a seminar that introduces different tools for post processing. You'll watch as Hagen transforms an ordinary photo of an every-day kitchen spice, into a mouth-watering work of art. Along the way, you will be introduced to the different techniques, tools and tips that go into creating a flaming jalapeno.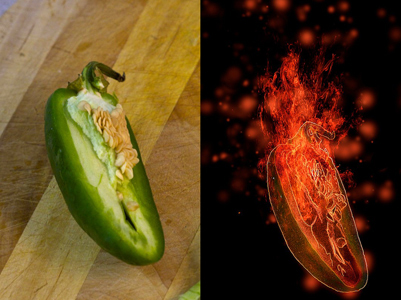 Who is Hagen?
Simplifying complex subjects for 25 years, Hagen brings an approachable teaching style to the broad subject of photo editing. Specializing in car and garden photography, Hagen is also a member of the National Association of Photoshop Professionals. Hagen is also keen on post-processing as an artform and has been editing photos digitally, in one form or another, since 2003.
Dates
March 5, 2011
2-4pm
Location
Ottawa Studio Works
160 Preston St., Ottawa, Ontario
Cost
$50 + HST


What to bring
Notebook and pen
Questions
Registration
This is an open seminar based workshop. Contact us by email or by phone at 819-827-9460 for more information and to register. We ask for full $50 (+taxes) payment to reserve your spot.
Small print and registration details.