Exposed! :: Slow Photo Movement ::
© Copyright 2011. All Rights Reserved.
Contents
I hear it regularly. Students glow as they beam "I took 1512 photos over the weekend." That's a lot! Compare that with Ansel Adams who was known for saying, "Twelve significant photographs in any one year is a good crop."
Like the slow food movement, more does not always mean better. Faster is not always a good thing.
In this edition of Exposed! We look at tips for creating better photos by slowing down.
Photos do not just appear on the screen. They start as imaginings in your mind and develop through your interaction with the subject through your camera.
Taking time to imagine your photo shoot helps stimulate new ideas to photograph. Writing or sketching ideas many hours, days or weeks before an opportunity, prepares you to maximize the moment when the camera comes out.
I often visit a location before a shoot to sit, look and think (without a camera) — professional daydreaming. The slow photo, below, was used to open a recent feature on outdoor hockey.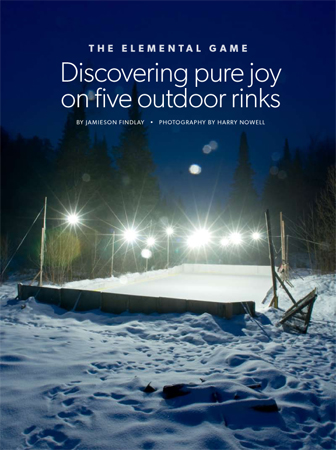 Slow Photo
Shooting for the magazine from initial pitch of the hockey story to handing in the final work was approximately six weeks. During that time my brain was constantly thinking of ideas.
This night time rink shot came to me after many fun hockey visits to the rink. I arrived one night to get this one shot. It took an hour. Why? I had to micro-explore for the perfect angle, set up the ladder and tripod and wait... for the failing sky light and the rink lights to balance.
Turn your continuous shooting feature off. OFF. High speed capture — five frames per second — is very good at helping inexperienced photographers attempt to catch the moment. All too often, high speed image capture clogs your camera's processor with mega bytes of missed moments. Using high speed capture can skip the heart-stopping instant that creates a winning photo.
Instead, take the time to learn to capture the right moment with one photo. Preset the technical aspects as much as possible — exposure, composition and focus and take the time to click at the right moment.
Nobody likes mistakes. But they are important in your development as a photographer. Learning takes time to develop skills and that includes mistakes and learning from them.
When an idea is brewing or a challenge is on the horizon do some research. A web search, or store visit can often help initiate new directions that will produce better photos.
Taking the time to enlist help will help you develop your ideas... and get better photos.
I've talked about this before. Tripods are cumbersome, heavy and take time to set up. Sometimes that is exactly what is needed! Tripods, in some instances, are necessary for high quality photos. These same photos often benefit from the slow set-up needed for a photo.
I often lug significant equipment to a shoot like the ski photo below. The set up often takes far longer than the picture taking but the results are worth it!

Slow Photo
I hiked for 30 minutes with monopod/tripod, extra warm clothes, cameras, lenses and a ladder to get this slow shot of the Gatineau Loppet. I got some weird looks as I lugged a ladder up the hill. I also received inquiries from a US magazine based on the results of this slow photo shot from above the skiers.
Here's a challenge. Limit yourself to 20 photos in a whole day. Erase NOTHING! Leave all spare memory cards at home. Or just take one roll of film. As you gain confidence, allow yourself fewer photos for the day. Slow down — make each photo count.
Time is a valuable resource. Different styles of photography require different quantities of photos.
For stock or art shoots I will often be aiming for one or a handful of shots from a shooting session that may consume many hours.


For weddings or event coverage — the client is expecting a collection of work. While I will shoot more and not be shy about clicking I still take time to look, shoot selectively and wait for important moments to develop. Fewer, better photos is more valuable than more mediocre photos.


For social documentary work, time invested in the project is important. Spending time exploring the project, withOUT the camera at first, will open doors!


I recently did some large group executive portraits. The client was surprised at the work involved to set up in the space available to get it right.


Worthwhile photos take time to develop. I'd rather see your five fantastic weekend photos than your « yawn » 1512.
Take photos. Have fun.