Exposed! :: Photo Goals for the New Year ::
© Copyright 2009. All Rights Reserved.
Contents
At this time of the year many people set New Year's resolutions. Fixing faults. Setting better habits. More carrots, less chocolate? I am not a fan of resolutions but am a big fan of setting goals! Goals are a positive way to get where you want to be!
In this edition of Exposed! photo newsletter I suggest five photo goals for any photo fan to pursue in the new year.
1. Spend one hour taking photos every week
Easy, but difficult to sustain.
Making sure you take photos every week is tough to maintain. Using your equipment regularly will help you improve technically and creatively. There are many ways to 'encourage' a productive photo season:
Book photo time. I taught a custom course to a couple who booked photo dates once a week. They spent an afternoon every weekend photographing something.
Join a photo club and participate in field trips.
Volunteer your photo skills for amateur sports teams.
Take a photo workshop.
Participate in online challenges.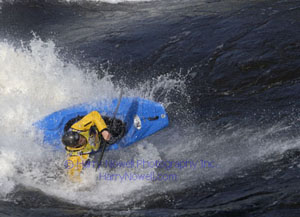 Paul Danks - past C1 whitewater rodeo world champion sets goals!
2. Acquire a 50mm f1.8 lens
Why?
There are many reasons to love this underused, overachiever:
an aperture of f1.8 or larger (ie smaller number) offers fantastic low light, flashless opportunities for portraits.
Sports shots benefit from a large aperture. Placed on a second body for closer action will allow faster shutter speeds in low light arenas, gyms or a stadium.
A 50mm f1.8 is cheap! You can buy this pro-calibre lens for $100-150. Nobody should be without one.
It's low tech and well proven
It can be used to encourage creative breakthroughs - see "Photography Heaven in Hell".
Some 'prime' lenses are available with an aperture of f1.4. Other fine lenses to watch for:
85mm f1.8
35mm f2
24mm f2.8
14mm f2.8
3. Learn
Take some time to advance your photo skills. Many people think nothing of dropping hundreds or thousands of dollars on equipment but choke at the thought of spending anything to master their tools or to become better photographers.
Cameras don't make good photos. People - with appropriate skills - make good photos.
It is true, I teach photography to many clients - hobbyists, government and corporate departments. It is also true I have seen students blossom with appropriate skills development and encouragement. Al? Cheryl? Chris? Kristen? Nancy? Wilby? I know you're reading!
I would encourage some of our workshops, of course... but really, take ANY quality photo courses, workshops, or tours. Ask for recommendations if needed.
4. Understand exposure basics.
Learn how to make white snow white. Snow, daisies, wedding dresses and whitewater should have a tone of white - not grey! Photos with grey-whites are a giveaway sign that someone doesn't understand basic photo principles. Understanding histograms is a powerful skill for producing whiter whites and impressing photo editors.
Even the fancy new US$8,000 Nikon D3x will produce grey whites if you do not understand photo fundamentals. Photoshop is not the answer! Again, cameras don't make good photos. People - with appropriate skills - make good photos.
Add exposure basics to your list of photo goals - yes, grey snow is one of my pet peeves.
5. Be kind to yourself
You are going to make mistakes. Always.
Beating yourself up won't make things better. Learning how mistakes improve your photography will take you to a new creative and technical level.
Setting, evaluating and establishing new goals helps me find success in anything I do. Really. Without goals I can still accomplish a lot but goals help me prioritize, stay on target,and get where I am going faster!
Set goals. Make sure they are quantitative - ie "shoot five projects in January" rather than "shoot lots in January"
Post goals in a prominent place
Evaluate and re-evaluate - what is going well? Why? Why not?
Set new goals
Dream big. Evaluate and prioritize. Set goals in your photo world!
Take photos. Have fun!