Photo Tour of Iceland ::
8 day Iceland photo tour
Tour Iceland on a dedicated photo safari with photographer Harry Nowell and Kent Larus Bjornsson, an Icelandic guide. Next available dates - summer 2010!
Team up with the expertise of an international stock photographer and an accredited Icelandic tour guide to explore the magnificence that Iceland offers. We travel away from the main tourist areas to capture stunning sites at a photographer's pace.
Itinerary
August 6-14th, 2009 + possibilities for extra photo opportunities after the session.
The tour will begin and end in Reykjavik, but will bring us through the north west of Iceland visiting some unforgettable sites. We will have opportunities to see some magical places such as:
Glymur - the highest waterfall in Iceland - accessible only by a hike over stunning terrain
Snaefellsness peninsula - volcanoes, glaciers, waterfalls and dramatic coastline
Stykkisholmur - marine and birder's paradise
Bjarnarhofn - farm with shark museum and, an Icelandic delicacy!
Reykjavik
Fjords of northwestern Iceland
Other accessible, spectacular and less tourist ridden waterfalls
Day One
Our trip begins in the world's most northern national capital, Reykjavik.
Day Two
We travel by van to dramatic Snaefellsness peninsula. The night is spent in a small town on the south side of Snaefellsness.
Day Three - Four
We make our way to Stykkishholmar where we partake of an optional sailing tour. This is also our jumping off point for a ferry to the westfjords.
Day Five
We explore the less travelled west fjords. Night in Patreksfjordur.
Day Six-Seven
Isafjordur, our destination for days six and seven offers some stunning panoramas and more dramatic landscapes.
Day Eight
We switch gears and visit the quiet fishing village of Holmavik on the coast
Day Nine
Back to Reykjavik for some last minute shooting and a group wrap-up before we say farewell to the land of the vikings.
Our trip includes as many of the above items as possible, but will remain flexible to allow us to take advantage of opportunities and weather. The specific itinerary may be adjusted. Our intention is to travel at a speed appropriate to weather, photography, and the group. There will be ample time to shoot.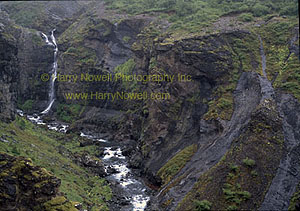 Glymmur
Accommodation and meals
We will suggest a choice of two accommodations - where posible - in each location to accommodate different budgets. The choices will range from budget to upscale accommodation where possible. Participants will be required to commit to specific choices beforehand and pay for their accommodations themselves. The cost of accommodations is not included in the trip cost.
Meals will be planned around our shooting schedule. We will have the chance to eat at restaurants, in self-catered accommodation as well as picnic meals on-the-go. Meals are not included in the trip costs.

Iceland's stunning terrain
Your Guides
Harry Nowell
Harry Nowell is a leading photo educator, stock / assignment photographer and public speaker. Harry's stock photography sells through a network of agents and appears around the world. When not shooting for clients, Harry runs a series of successful photo workshops near Ottawa, Canada.
Harry is also an experienced outdoor educator. He has led expeditions with Outward Bound in Canada's north, assisting people in hiking, climbing, canoeing and camping while challenging them to find undiscovered inner strengths. He has taught alpine skiing, Nordic skiing, whitewater paddling and climbing in Canada and Europe. With varied and challenging experiences Harry assists many different people to achieve their goals.
Harry Nowell is loved by students. With patience, effective teaching skills, accomplished photo background and proven outdoor guiding skills Harry is sought after for his expertise not only to produce photography but also to lead photo enthusiasts and make complex photography accessible.
Kent Larus Bjornsson
Kent lives in Iceland and decends from a long line of Icelandic ancestry. Kent grew up in Canada and, with his Canadian citizenship and conenctions, has guided Icelanders through the Icelandic settlements of North America. He has lost track of how many times he has been around the island and is proud of his extensive travels through Europe, Cuba, China and North America.
High praise for Kent:
"I know Kent and I know that whoever has him as a guide, is with an expert. We have worked together for few years, and I will recommend him anytime."
Borkur from a Lonely Planet forum.
Kent completed studies at the tourguide school of Iceland in 2005. During the school year he is an IT specialist at a college in Reykjavik. When school is out Kent works for tour companies as a driver and guide on a part time basis. Kent is a:
Visit Kent's personal website: NordicTrails.ca
Costs
The price of the photo tour is: $3250 Canadian + expenses = $5000 (approximately) + airfare to Iceland.
What is included in the tour fee: photo guidance / critique with a local accredited Icelandic tour guide, ground travel within Iceland.
What is not included: airfare, meals, accommodation, tipping, spending money, cameras, camera equipment, photo expenses, optional tour fees, etc.
What does the cost represent?
This cost includes the expertise of your two guides and ground transport in Iceland.
Harry is a sought after photographer, photography teacher, public speaker with a history of guiding and leading groups in the wilderness.
Kentis one of the finest and most knowledgeable experts on Iceland. He has lived in Canada and Iceland, understanding both cultures well.

The tour is organized to give options and control over the expense (and level of comfort) of your trip. Where possible we will suggest options for accommodations and restaurants to fit different budgets. Our focus on the trip will obviously be photography, but we will also be looking to experience the culture of Iceland. The tour is not intended to be a luxury trip nor do we plan on roughing it! Keep an open mind and remember that part of the travelling experience is expecting the unexpected as we pursue some challenging but impressive photo opportunities.
Fitness
The photo tour of Iceland is an active trip. We will be travelling by vehicle but expect to be hiking in rugged terrain that requires a moderate level of fitness - we may be hiking moderate distances some days with camera gear to reach photo destinations not available to car bound tourists. We suggest a fitness program in the months leading up to the trip to ensure your enjoyment. Please consult your doctor for more information.
Climate & Midnight Sun
In Iceland's summer months the sun is almost always above the horizon, which means there is good shooting light almost 24 hours a day. Unlike equatorial photo destinations that have 12 hours of darkness, brilliant but blazingly fast sunsets / sunrises and harsh, high midday sun, Iceland has a beautiful light for most of the day and night.
Iceland's summer temperature varies from 10C (50F) into the 20s (70-80F). Expect days with rain and sun. A suggested equipment and clothing list will be sent to participants.

Hot day near the Arctic circle!
A Typical Day
Each day will be unique with possible variations of the following:
early morning shooting
breakfast - either on the road or in a restaurant
guided Icelandic history and geography
photography instruction - inspiration and guidance as needed
shooting opportunities
lunch - either on the road or in a restaurant
travel time
time for museums, special events, tours
quiet time
critique sessions
dinner - either on the road or in a restaurant
daily updates of plans for the next day
Full travel details including suggested equipment, clothing and travel details are availble by request.
For more insight and ideas on Iceland please visit our blog posts (#s 104-110) and our 'Exposed!' newsletter - "Photography Hell in Heaven."
Registration
A registration form and $500 deposit must be received to reserve your spot. $1500 payment is due March 15th, 2009. Final payment is due in June. While effort is made to be as accurate as possible changes to itinerary, price and availability may be made. Five participants are needed. Please contact Harry @ HarryNowell.com for registraton forms and specific details.