Exposed! :: Catching Superman ::
© Copyright 2008. All Rights Reserved.
Contents
A speeding bullet is pretty fast! Capturing Superman with your camera takes some skill, good timing and an understanding of motion techniques in photography.
In my pursuit of motion I have attached cameras to skateboards, skis, bikes, cars and even my head. My camera rigs became more complex as I experimented with the exhileration of motion. Capturing the speeding subject can be quite simple and can lead to very, very fun photos!
In this edition of Exposed! we look at the dynamic possibilities of capturing moving subjects whether they are super men and women, bike racers, or flowing water.
All motion photos come down to variations of three techniques:
Implied Motion - high shutter speed
Blur - low shutter speed and tripod
Panning - low shutter speed off tripod
The following three pictures were taken at the same race with the same lens from the exact same place. All I changed was the type of motion used. Easy! And the different effects can make you and your subject look good!
Motion photography can be like the heavy metal guitar riff screaming obvious motion. It can also be the gentle subtlety of a flute adding more perspective to the photo story. Motion pictures do not need to leave your visual senses throbbing!
The photos below show how the simple addition of subtle motion to a cruising tall ship adds to the story. In both photos we were sailing up the Saguenay Fjord in Quebec. The second photo gives a more complete story with moving water under the ship.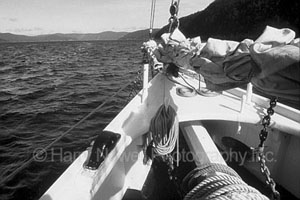 And so the fun begins. My motion photos are among my favourites. Yes they are!! My advanced motion pictures start with the techniques above and have developed with some quality observations and experiments. Practicing the basic techniques with added creativity can make your photography take flight like the swing photo below. PLEASE be careful in and around moving subjects - safety first!
If you are curious to try more motion consider my Bike Race Photography Workshop covering an elite bike race - we will be experimenting with many different elements of motion.
Applied appropriately, blur can add to your photo. However, slight blur can make your photos muddy unattractive. Muddy blur can be the result of two things:
a slightly out of focus element
an element captured with a hint of motion
The two types of blur can be mistaken for each other. It is important to recognize the difference to create successful blur in your photos.
Your homework is to find a volunteer to walk or run against a plain background. Explore the techniques of motion at 1/500th of a second and at 1/15th of a second.
For some initial motion guidance join the Creative Fundamentals Workshop in the fall. We will practically go through the base ideas of motion.
As a kid I always like going fast whether on skis, bikes or in my Dad's little British MG sports car! The fun continues with my camera. I have developed techniques that can make gentle scenes furious and modest ones more fun! Stock clients enjoy the visually screaming riffs as well as accompanying flutes.
My largest single stock sale came from an image using an advanced motion technique of a car 'flying' in downtown traffic. I did cartwheels when I discovered the large sale!
Explore the world of motion so your pictures soar - it'll make Superman smile!
Take photos. Have fun!


Samples